| | | |
| --- | --- | --- |
|   |   | NEW STI DIRECTOR |
| |   | Alfred Schipke was appointed Director of the IMF – Singapore Regional Training Institute in September 2021. Prior to that he was Assistant Director in the IMF Asia and Pacific Department and Mission Chief for India. From 2013-2020 he was the IMF Senior Resident Representative for China providing policy advice, leading the analytical work of the office, and coordinating the IMF's capacity building activities in China. He was also division chief in the IMF Asia and Pacific Department coordinating the work on fast-growing low-income countries in Southeast Asia (Frontier Economies) and Mission Chief for Vietnam. Before that, he was in charge of the Latin Caribbean and Eastern Caribbean Currency Union divisions in the in the IMF's Western Hemisphere Department, where he negotiated several IMF programs. He has taught international finance at Harvard Kennedy School and the National School of Development at Peking University and has authored and edited several books and articles. |
---
 
 

NEW STI DEPUTY DIRECTOR

 

Ales Bulir was appointed Deputy Director of the IMF — Singapore Regional Training Institute in September 2020. He was the Deputy Division Chief of the Asian Division in the IMF's Institute for Capacity Development from 2016 to 2020. In this capacity, he was closely involved in the design and delivery of IMF training and provided technical assistance on forecasting and policy analysis to the Central Bank of Morocco and the Ministry of Economy and Finance in Cambodia.

Ales has worked at the IMF for over 25 years, serving in the European, Monetary and Exchange Affairs Department, African, Policy Development and Review, and Research Departments. During this time, he led multiple IMF missions and worked on the role of communication in monetary policy, macroeconomic modeling, and issues related to development aid. Ales is a Czech national. Prior to joining the Fund, he taught economics in Prague and worked at the Czech National Bank on monetary policy and forecasting. He holds graduate degrees from the London School of Economics and Prague University of Economics.
---
| | | |
| --- | --- | --- |
|   |   | SO LONG |
| |   | Our current Deputy Director, Natan Epstein, returned to IMF headquarters in August 2020. After 4 years at the IMF — Singapore Regional Training Institute Natan left a large legacy. He contributed to the roll-out of a new training curriculum which reflected lessons from the global financial crisis and introduced new topics, such as FinTech, inclusive growth and innovations in monetary and fiscal policy analysis. Natan also led senior level exchange with officials from Cambodia, Laos, Myanmar and many others and during his last 18 months worked tirelessly on a technical assistance project with the State Bank of Vietnam. One of his key achievements was the creation of a new high-level annual Forum with ASEAN central banks on pressing monetary policy issues which STI hosted in 2018 and 2019. With his focus on substance and his collaborative style, Natan has deepened our relationship with government officials around the region. Thank you for all your contributions! |
| September 09, 2020 |   |   |
---
STI Expert Webinar and Remote Training Video
Come join us in our COVID-19 expert webinars and remote training!
STI Festive Greetings Video
Watch a video from the STI and Singapore Resident Representative Office.
Fifth STI Directors of Training Meeting
(February 28 - March 1, 2019)
The IMF Book "The ASEAN Way" was launched at a seminar, jointly organized by AMRO, IMF and MAS on 17 Dec. The book analyses the economic and policy transformation of the ASEAN-5 economies (Indonesia, Malaysia, the Philippines, Singapore, Thailand) after the Asian Financial Crisis and how a variety of global risks will continue to test the group and their economic resilience. Shanaka Jayanath Peiris (IMF), Hoe Ee Khor (AMRO), Keen Meng Choy (MAS) and Ramkishen S. Rajan (LKY School of Public Policy) discussed how the ASEAN-5 economies will rise to the challenges ahead which call for upgrading policy and institutional frameworks, exploiting policy synergies and reaping the benefits of regional integration.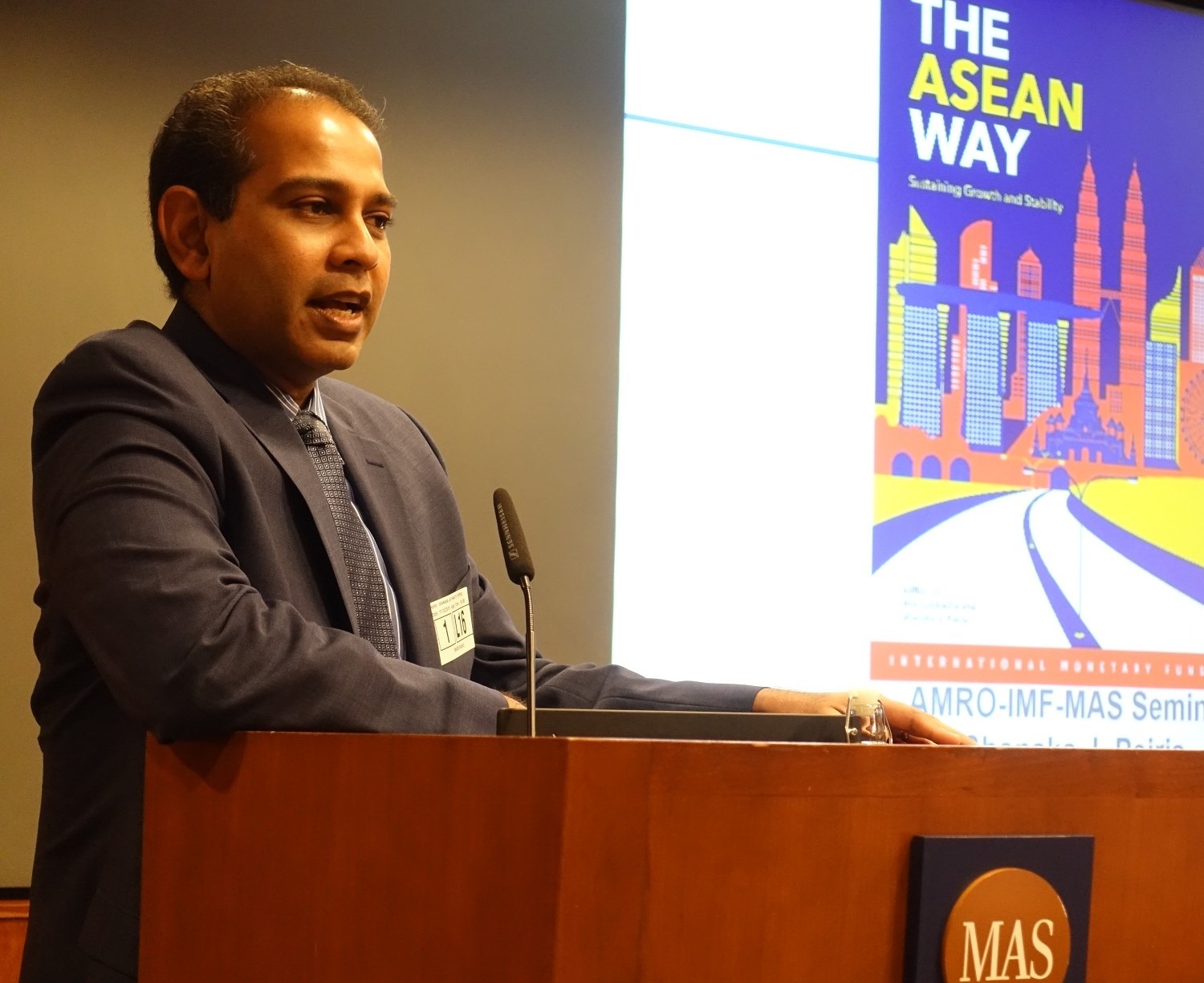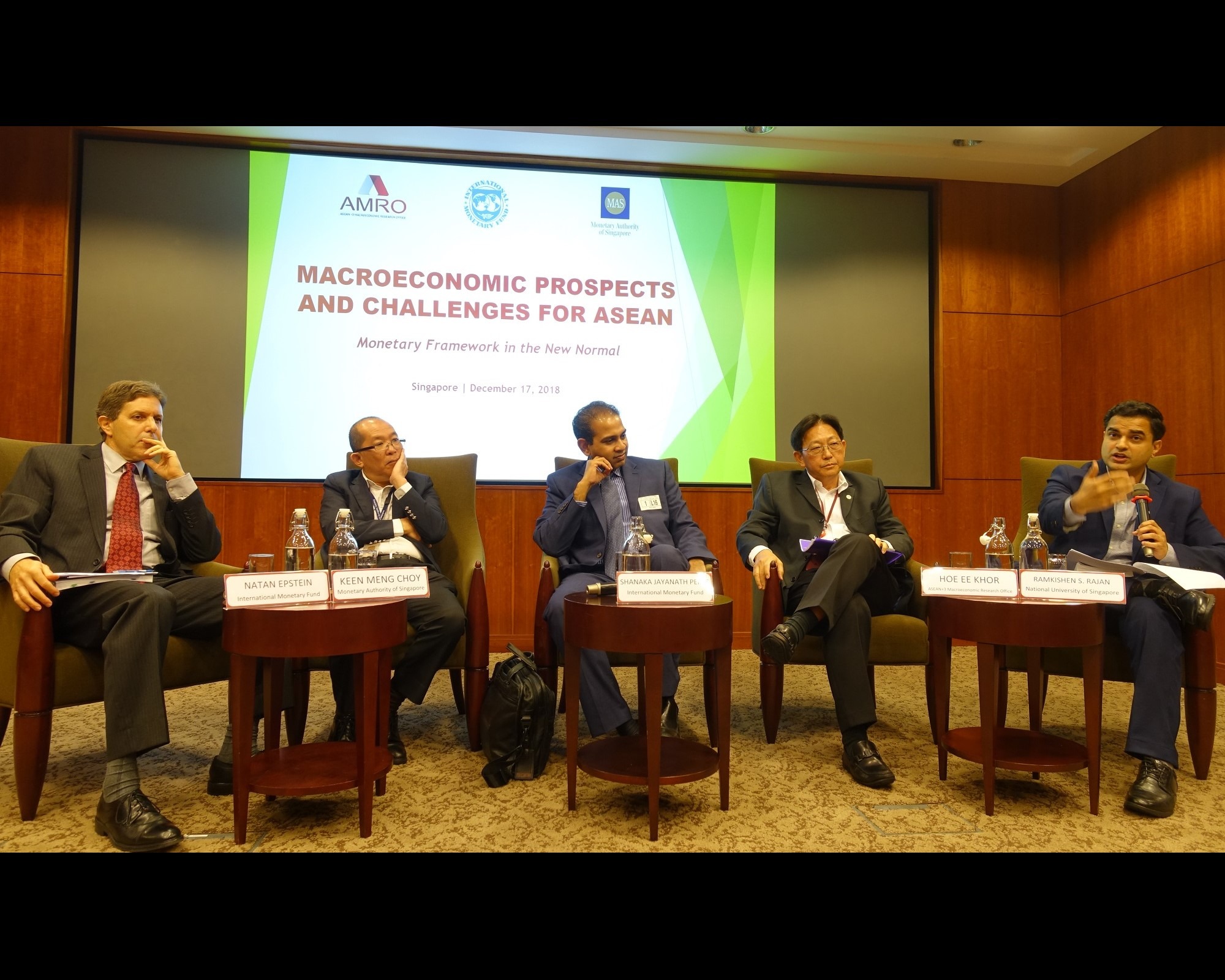 Seminar and Book Launch
(December 17, 2018)
Participants at the IMF – STI's Monetary Policy course (Nov 5-16) not only had the chance to simulate policy responses under different monetary policy and exchange rate regimes, they also visited the Singapore Fintech Festival.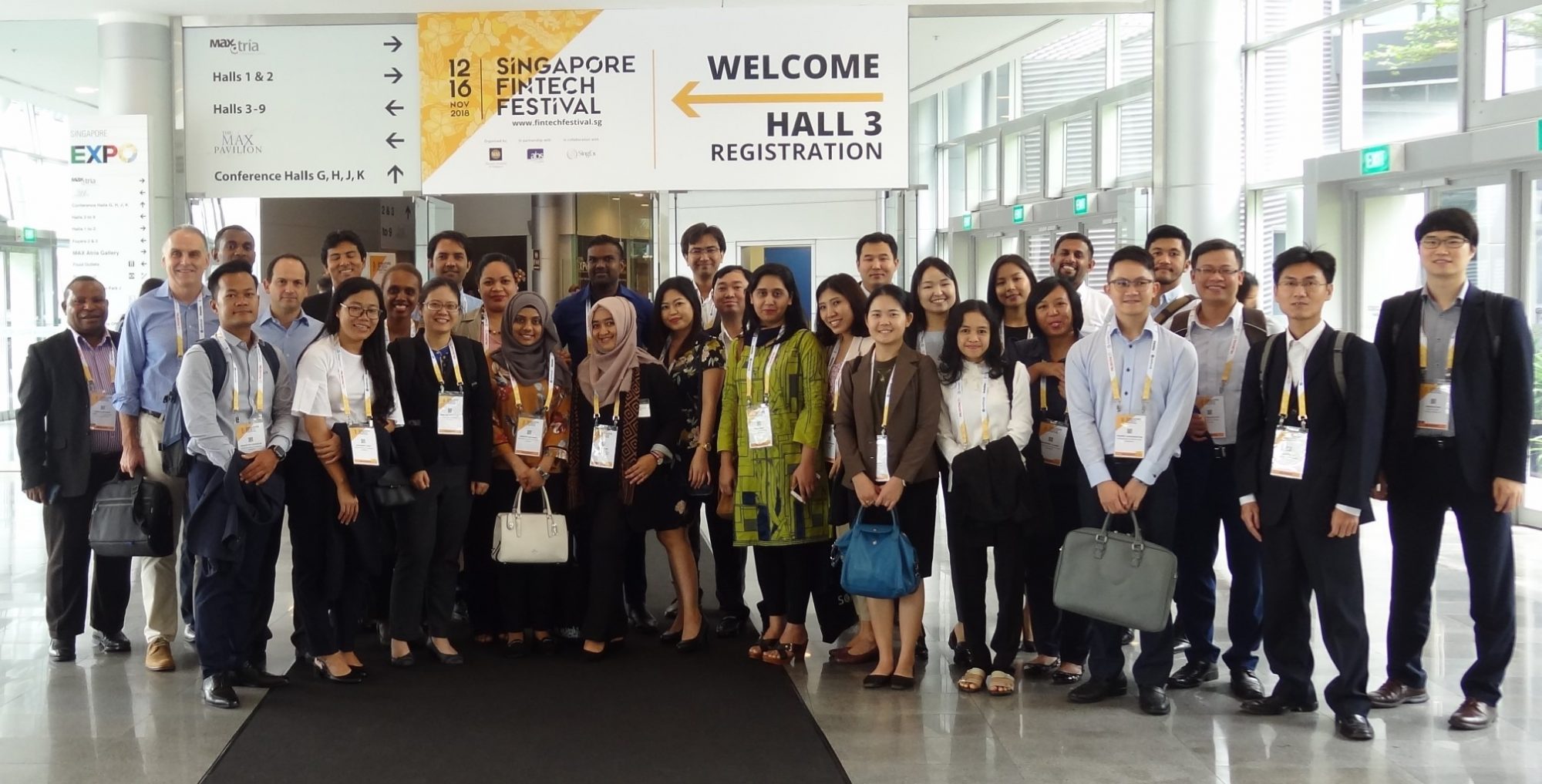 Participants of the STI Monetary Policy course visit Singapore Fintech Festival
(November 12-16, 2018)
---
A High-Level Peer-to-Peer Forum for ASEAN Countries, jointly organized by the IMF, Monetary Authority of Singapore and the STI was held in Singapore on July 9-10, 2018, to discuss monetary policy design and implementation. Senior officials and IMF and international experts in attendance at the interactive sessions concluded that upgrades to policy frameworks in Asia are needed to meet current global challenges.
Please see Professor John Taylor's Keynote Speech → Link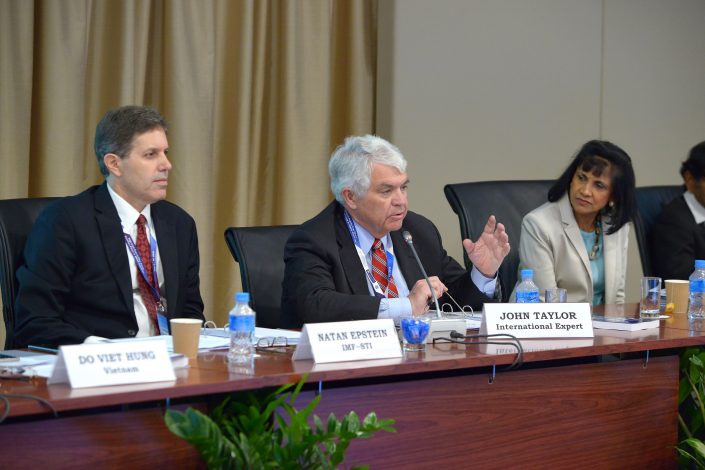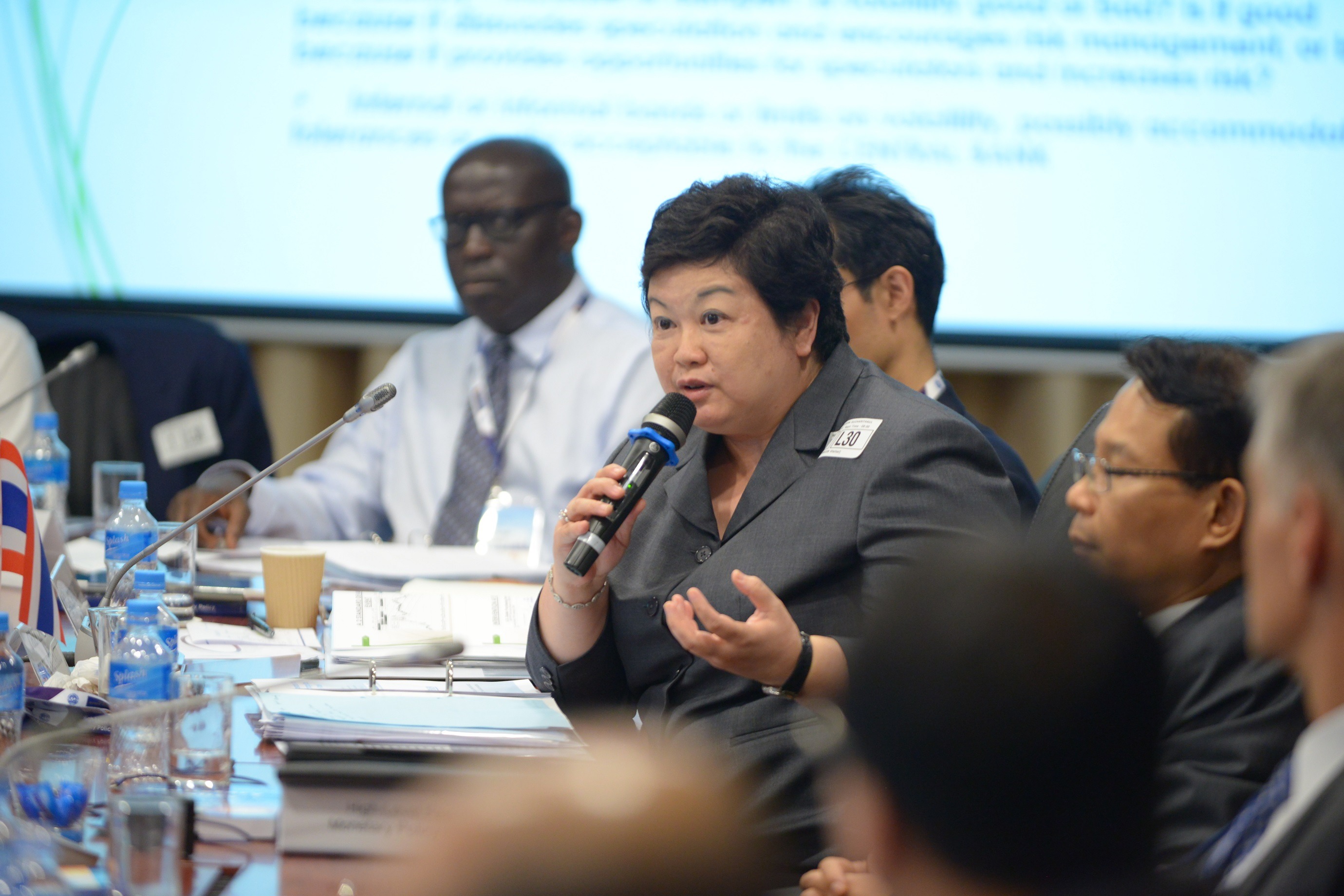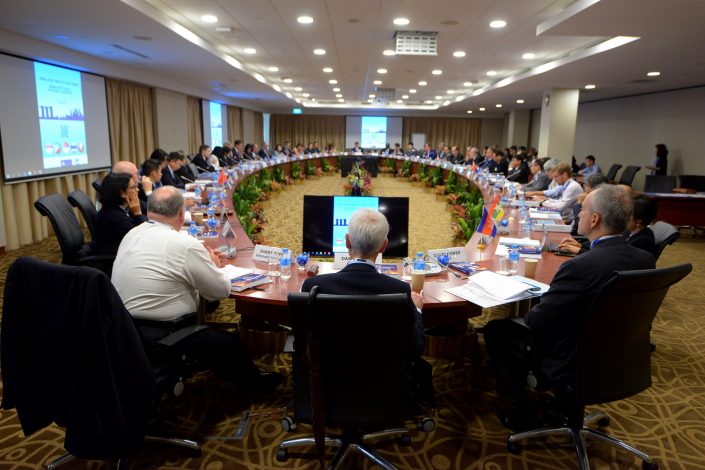 Modernizing Monetary Policy Frameworks in ASEAN Countries
(July 9-10, 2018)